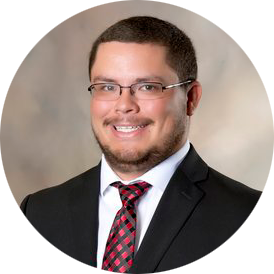 Casey Lockard has been involved in the marching arts since 2007, first as a performer, then progressing into director and designer roles. Casey graduated from Circleville High School in Ohio in 2011, where he became the Assistant Director in 2014, and still holds this position.
In 2011, Casey began as a visual designer shortly after graduating from high school. Since then, he has served as visual designer for Eastern Brown High School, Fairfield Union High School, and Millersport High School of Ohio, and Quincy Senior High School of Illinois. In addition to his role as Assistant Director at Circleville, Casey also serves as their visual caption head and visual designer.
Outside of the marching arts, Casey earned a Bachelor's Degree in Middle Childhood Education at Ohio University Lancaster, with a minor in Music. He enjoys spending time at home with his family and dog, Dexter, as well as traveling to amusement parks across the country in his free time.